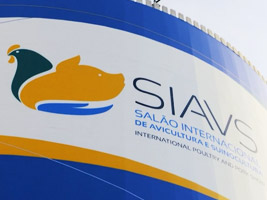 SIAVS 2022 – SALÃO INTERNACIONAL DE AVICULTURA E SUINOCULTURA
The biggest aviculture and swine industry event in Brazil!
Organized in Fair and Congress, SIAVS 2022 brings thousands of participants, including buyers, technicians, researchers, consultants, leaders and students from Brazil and the world.
It is a unique opportunity for those who want to invest in new technologies for production and have access to information that enhance projects and production activities.
With the content on the theme Sustainable Production: paths to global food security. Brings a complete program of lectures, this year SIAVS will bring more than 100 speakers from Brazil and other countries, including businessmen, academics, professionals from agro-industries and cooperatives, that will talk about the reflecting on the sectoral role from the technical, conjunctural and political perspectives.
A fair that unites the sectors of Brazil!
With the participation of equipment companies, genetic houses, laboratories, biological and pharmaceutical inputs, logistics, among several other suppliers of the production chain, SIAVS is the only event to bring together the producing and exporting agro-industries associated with ABPA (Brazilian Association of Animal Protein ).
Large stands and strong investments are underway to provide the most complete experience for visitors.
Highlight Innovation and launch in products and services
Come visit SIAVS 2022 admission is free.
Service:
Congress: 9 am to 5 pm
Fair :
Day 9 and 10 – 11am to 7pm
Day 11 – 11 am to 5 pm