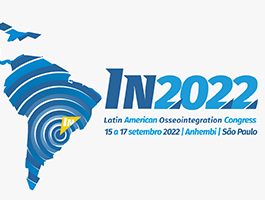 IN 2022
A mega meeting with the best specialists in odontology
IN 2022 – Latin American Congress of Osseointegration will take place from September 15th to 17th, at the Anhembi District Convention Center!
On this date, the oral rehabilitation world will meet again the advances of the specialty, in the most important debate of international odontology.
The IN 2022 program will have more than 200 scientific activities and the participation of 150 ministers whose's recognized worldwide, like as Frank Schwarz (Germany), German Gallucci (USA), Istvan Urban (Hungary), Joseph Kan (USA), Maurice Salama (USA), Tomas Linkevicius (Lithuania) and Wael Att (USA).
And in their free time, the 4 thousand delegates will be able to follow all the news in the segment at ExpoIN, a traditional promotional event, which already has almost 100% of the spaces reserved for the exhibition of the sector. Everything is ready for the IN 2022 to happening.