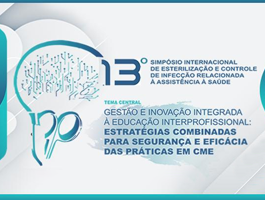 13º Simpósio Internacional de Esterilização
SOBECC will made a presential event in District Anhembi.
The 13th International Sterilization Symposium with the Health Assistant will have the focus theme about Management and innovation integrated to interprofessional education: combined strategies for safety and effectiveness of CME practices. The objective is give a scientific content that will encourage the reflection about achieve safe practice through processes, flows and permanent education of national Perioperative Nursing Professionals, especially in CME.
With a huge program that will divide in 7 plenary with gests of international and national rename, beside that, will have a lot of news and exhibitors that will brings experiences that increase habits for living better.
In addition to Scientific Programming and Living Well, SOBECC starts this year the SOBECC Social Program, which aims to exercise SOBECC's social responsibility. SOBECC Social aims to carry out philanthropic actions, both in the area of education and in the area of social and professional assistance, aiming to help populations that are in a situation of vulnerability.